Global sustainability is important to us at Bushel Plus. We're thrilled to see that there is a local prairie-focused incentive program supporting Manitoba farmers and their investment in innovative technology around precision harvest management and precision spraying. Included in the incentive is government funding for farmers to purchase a drop pan system.
The initiative is part of the Sustainable Canadian Agriculture Partnership (Sustainable CAP), a five-year $3.5 billion investment by Canada's federal, provincial, and territorial governments aimed at supporting Canada's agri-food and agri-products sectors. Part of the program is built around sustainability and reduction of herbicide usage, which can result in higher profit margins for farmers.
This is where the SmartPan System comes into play. Drop pan systems target herbicide reduction post-harvest season by limiting the growth of volunteer crop that results from combine grain loss. The fact is: The more harvest loss that is prevented, the less regrowth there is, resulting in a lesser need for herbicide use post-harvest time and in future crops to control volunteer weeds.
2022 Farmer Results using the Bushel Plus SmartPan System
™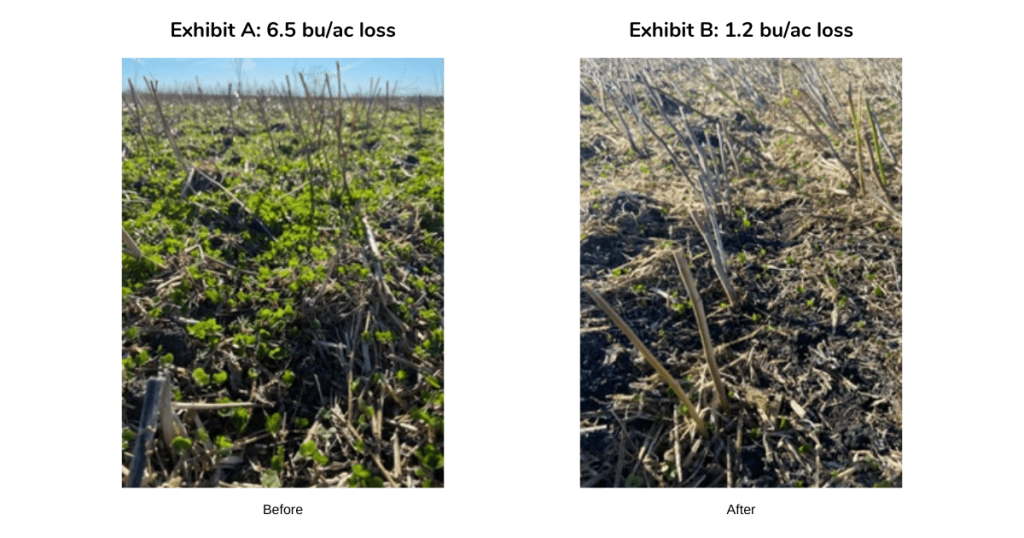 A customer who purchased the Bushel Plus SmartPan System before the 2022 harvest season noticed first-hand the significant difference measuring harvest loss and calibrating the combine can have on re-growth. Both Exhibit A & B above are the same crop/field. The farmer noticed their combine wasn't set properly after harvesting the yield captured in Exhibit A. They dropped a Bushel Plus SmartPan and measured 6.5 bu/ac loss. After making some combine adjustments and verifying their changes with our system, they were able to bring their losses down to 1.2 bu/ac. They harrowed the field and after they received about 3-4 inches of rain, the difference in crop re-growth was astounding. Exhibit B, which demonstrates 1.2 bu/ac loss had significantly less regrowth than the area harvested before they dropped a pan and dialed in the combine.
Additional Benefits to Measuring Harvest Loss
The Bushel Plus SmartPan System is a safe and effective method of measuring harvest loss. Traditional methods of measurement have proven to be dangerous and a bit of a guessing game. The SmartPan System allows you to remotely drop a pan and calculate your loss quickly & conveniently through your smartphone with our industry-certified analysis.
Drop a pan remotely to collect an accurate sample in seconds.

Our air separator will save valuable time for effective sample cleaning.

The math is done for you in our SmartDrop app, taking the guess work out of the process.
If you don't check, you don't know what you're losing. Less grain on the field means more grain in the bin, more profit in your pocket and more food for Canadians and people around the world. A great added benefit on top of reducing the cost of using pesticides and contributing to sustainability if you ask us! 
About the Sustainable Agriculture Manitoba Incentive Program
As stated in the program guide,
"Sustainable Agriculture Manitoba (SAM) provides funding to
producers and land managers to implement cost-shared beneficial management
practices (BMPs). The objective is to increase the environmental and economic sustainability
of agriculture operations in Manitoba (Government of Canada; 2023).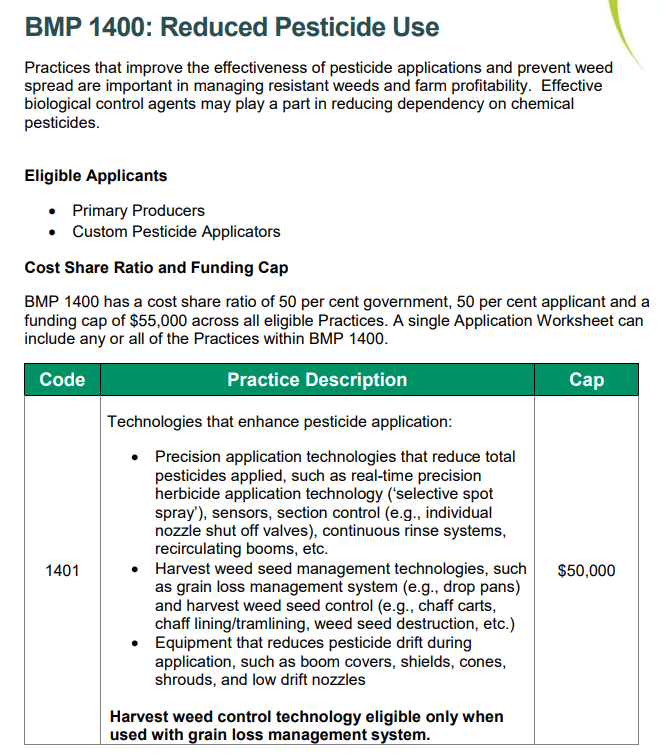 The deadline for producers to submit applications for the 2023 crop year is June 13th, 2023. The initiative will run annually for the next 5 years, so there will be an opportunity to apply in 2024 as well. Funding can be applied to new or previously acquired SmartPan Systems with proof of purchase retroactively to April 1st 2023.
If you haven't yet purchased a SmartPan System, visit your local Bushel Plus dealer who would be happy to assist you.
We look forward to seeing many more SmartPan Systems in the field reducing harvest loss this year through the incentive program.
*Funding may be provided subject to availability